Rekan2, sekedar info.. ada kesempatan sertifikasi (BNSP – lambang garuda) bersubsidi.
Karena subsidi, sertifikasi resmi yang biasanya 2jt an, bisa jadi sekitar 500rb an. Ada limit waktu & max kuota peserta, jd silakan dimanfaatkan. Info program bersubsidi: https://pskk.bnsp.go.id/detailpss
Catatan: karena ini program bersubsidi, masing2 orang cuma bisa ikut salah satu skema saja.
Prodi MTI Universitas Mercubuana akan menyelenggarakan kegiatan SERTIFIKASI KOMPETENSI TEKNIK INDUSTRI BNSP:
1) Pengelolaan Produksi
2) Pengelolaan Gudang
3) Pengelolaan Persediaan
Link pendaftaran: https://docs.google.com/forms/d/e/1FAIpQLSftBeSCTqQyA3ph-PX6umcP98OFVjTN7EZhErNS6RUtskUjWA/viewform
International Seminar
Universitas Mercu Buana, one of the institutions that organizes higher education through the Industrial Engineering Masters Study Program in collaboration with Indonesian-Japan Business Network (IJBNet) will hold an International Seminar to support the development of modern industry with the theme:
"Digital Lean Manufacturing and Automation"
?Topics & Content:
Topics:
– CPS Technology for MI4.0 and Green
Content:
– Digital Engineering and MI4.0
– Light Weight Factory CPS
– Green Strategy by Production Simulation
? Date:
Saturday, July 30th, 2022
️ ⏰ Time:
08.00 to 12.00 WIB
?‍? Speakers:
Prof. Masahiro Nakamura
CEO of Lexer Research Inc.
Prof. Fumio Kojima
Guest Professor Waseda University
Ir. Restu Yuni Widayati
Head of Industrial Vocation Education Development
?‍? Opening Speech
Dr. Harwikarya, MT
Rector of Universitas Mercu Buana
?Moderator
Dr. Salim Mustofa
Secretary of IJBNet
?Media: HYBRID
Online: Zoom Meeting
Onsite: Prof. Harun Zain Auditorium
Universitas Mercu Buana
Google maps link: https://maps.app.goo.gl/ZZDqCSa2akWrJg3P7
? Registration Fee:
1.) Internal / UMB Alumni
Online: 100K
Onsite: 100K (Snack and Lunch)
2) UMB External
Online: 150K
Onsite: 150K (Snack and Lunch)
Transfer to Account 0629902110
BNI a/n Dwi Mayasari
? Registration Link
bit.ly/RegistrasiMTI-IJBNet
For more information
Indra Setiawan
wa.me/628111619944
?Website
http://mti.pasca.mercubuana.ac.id/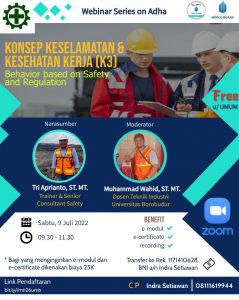 Assalamu'alaikum wr. wb.
Webinar Series on Adha
KONSEP KESELAMATAN DAN KESEHATAN KERJA
Behavior base on Safety & Regulation
? Tanggal:
Sabtu, 9 Juli 2022
⏲️ Jam:
09.30 s/d 11.30 WIB
?? Narasumber:
Tri Aprianto, S.T. M.T.
Trainer & Senior Consultant Safety
?? Moderator:
Muhammad Wahid, S.T. M.T.
Dosen Teknik Industri
Univ Borobudur Jakarta
? Benefit:
1. E-Modul
2. E-Certificate
3. Rekaman
? Media:
Zoom Meeting
? Tata Kelola Investasi:
Bagi peserta yang menginginkan e-certificate & e-modul dikenakan biaya
1.) Rp. 25.000,-
2.) Transfer ke Bank BNI
No. Rek : 1171410628
A/n Indra Setiawan
Link Pendaftaran
bit.ly//mti26umb
Info:
Indra Setiawan
?: wa.me/628111619944
*) Konfirmasi jika sudah melakukan pembayaran.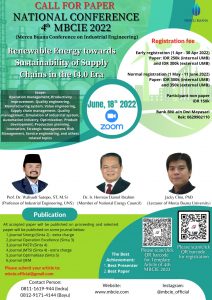 MBCIE (Mercu Buana Conferance Industrial Engineering) merupakan salah satu kegiatan dari program studi Magister Teknik Industri Universitas Mercu Buana, telah dilaksanakan MBCIE ke 4 pada tanggal 18 Juni 2022 dengan jumlah partisipasi sebanyak 110 peserta, tema yang diangkat pada seminar ini adalah "Renewable Energy Towards Sustainability of Supply Chains in the i4.0 Era"
Pembicara yang mengisi seminar nasional merupakan pakar dibidang Renewble Energy and Supply Chain yaitu:
Prof. Dr. Wahyudi Sutopo, ST, M.Si, IPM yang merupakan Profesor dari universitas sebelas Maret Surakarta dan juga sebagai President IEOM Indonesia Chapter. lalu ada Dr. Ir. Herman Darnel Ibrahim. M.Sc. IPU yang merupakan sebagai anggota dewan energi nasional dan juga sebagai dosen di Universitas Indonesia. yang terakhir Jacky Chin, Ph.D yang merupakan Dosen Universitas Magister Teknik Industri Universitas Mercu Buana dan pakar dibidang Engineering & Energy di PT Argo Manunggal Triasta
Seminar ini mempunyai beberapa luaran hasil publikasi yang akan diterbitkan di jurnal terakreditasi Sinta, meliputi: Jurnal Sinergi (S2), Jurnal Operations Excellence (S3), Jurnal Pasti (S4), Jurnal Media Teknik dan Sistem Industri (S4), Jurnal Optimalisasi (S5).
Semoga kegiatan ini menjadi bermanfaat dan dapat dilaksanakan secara berkala dan dapat menghasilkan luaran-luaran publikasi yang berkualitas dan bermanfaat bagi para peneliti.
Call for Paper
4th Mercu Buana Conference on Industrial Engineering mengundang partisipasi para mahasiswa, peneliti, akademisi, dan praktisi untuk mengirimkan karya tulis terbaik dalam Seminar Nasional bidang Teknik Industri yang mengangkat tema:
"Renewable Energy towards Sustainability of Supply Chains in the I4.0 Era"
? Tanggal:
Sabtu, 18 Juni 2022
?? Keynote Speaker:
Prof. Dr. Wahyudi Sutopo, ST., M.Si
Guru Besar Teknik Industri UNS
Presiden IEOM Indonesia Chapter
Dr. Ir. Herman Darnel Ibrahim
Anggota Dewan Energi Nasional
Jacky Chin, Ph.D
Dosen Magister Teknik Industri
Universitas Mercu Buana
? Media:
Zoom Meeting
? Biaya Pendaftaran:
1.) Early Bird
Presenter:
Internal UMB: 250K
Eksternal UMB: 300K
2) Normal
Presenter:
Internal UMB: 300K
Eksternal UMB: 300K
Peserta non makalah: 150K
Tranfer ke Rek 0629902110
BNI a/n Dwi Mayasari
Link Pendaftaran
bit.ly/regMBCIE2022
Link Template
bit.ly/TemplateMBCIE
Publikasi Karya Ilmiah
1. Sinergi (Sinta 2)
2. Operations Excellence (Sinta 3)
3. Jurnal PASTI (Sinta 4)
4. Jurnal JMTSI (Sinta 4)
5. Jurnal Optimalisasi (Sinta 5)
6. Jurnal IJIEM
7. Prosiding 4th MBCIE
Kirimkan makalah ke mbcie.official@gmail.com
Informasi Pendaftaran:
Indra Setiawan wa.me/628111619944
Bayu Nugroho wa.me/6281291714144
Website
www.mbcie.com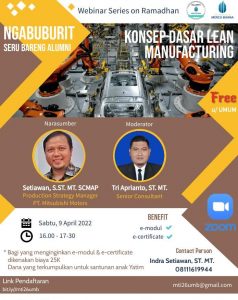 Ngabuburit Seru Bareng Alumni MTI UMB:
Webinar Series on Ramadhan
KONSEP DASAR LEAN MANUFACTURING
? Tanggal:
Sabtu, 9 April 2022
⏲️ Jam:
16.00 s/d 17.30 WIB
?? Narasumber:
Setiawan, S.ST. MT. SCMAP.
Production Strategy Manager
PT. Mitsubishi Motors
?? Moderator:
Tri Aprianto, S.T. M.T.
Senior Consultant Safety
? Benefit:
1. E-Modul
2. E-Certificate
3. Group Job Discussion
? Media:
Zoom Meeting
? Tata Kelola Investasi:
1.) Rp. 25.000,-
2.) Transfer ke Bank BNI
No. Rek : 1171410628
A/n Indra Setiawan
Dana yang terkumpul untuk Santunan Anak Yatim
Link Pendaftaran
bit.ly//mti26umb
Info:
Indra Setiawan
?: 0811161994
✉️: mti26umb@gmail.com